Everyone Welcome "TRAVEL" with TORONTO GT'S
Speaking this month:
Austin Zhao – "An Excursion into North Korea".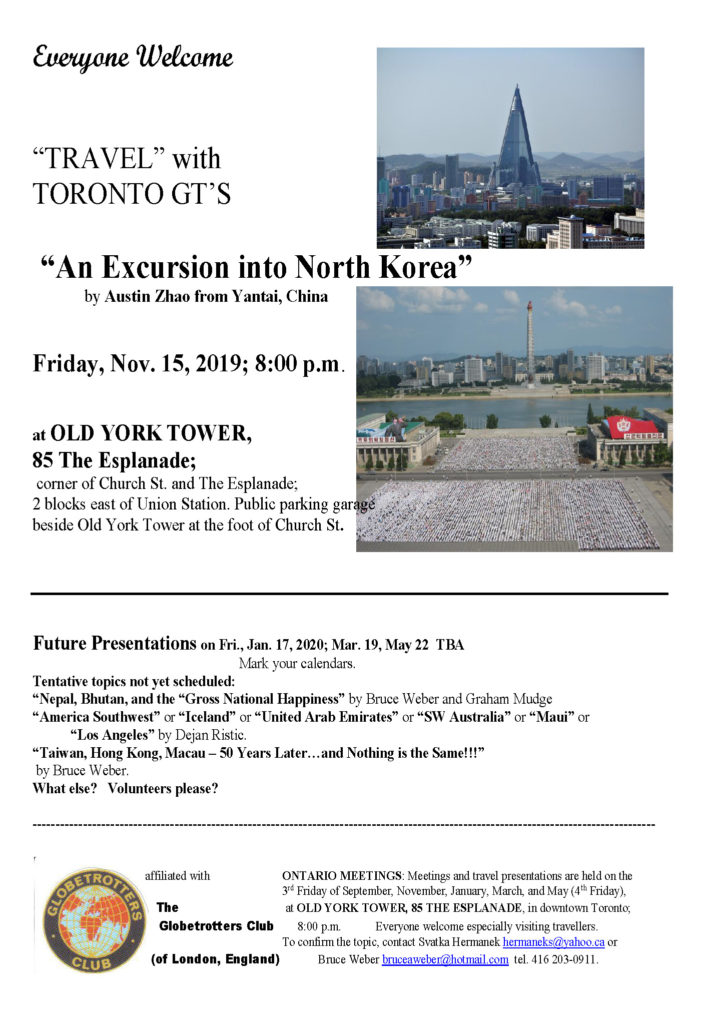 Mark your calendars.
Future Presentations:
We need volunteers for presentations.
Future Presentations on Fri., Jan. 17, 2020; Mar. 19, May 22 TBA
Mark your calendars.
Tentative topics not yet scheduled:
"Nepal, Bhutan, and the "Gross National Happiness" by Bruce Weber and Graham Mudge
"America Southwest" or "Iceland" or "United Arab Emirates" or "SW Australia" or "Maui" or "Los Angeles" by Dejan Ristic.
"Taiwan, Hong Kong, Macau – 50 Years Later…and Nothing is the Same!!!" by Bruce Weber.

What else? Volunteers please?
For information on Ontario meetings, please contact Svatka : hermaneks@yahoo.ca or Bruce : bruceaweber@hotmail.com / tel. 416-203-0911. Meetings and travel presentations are held on the 3rd Friday in January, March, May (4th Friday), September and November at 8.00 p.m at Old York Tower, 85 The Esplanade ( corner of the Esplanade & Church St.) – two blocks east of the Union station. Public parking garage is at the foot of Church Street right next to the Old York Tower.