Everyone Welcome "TRAVEL" with TORONTO GT'S
Speaking this month:
Alex Rice and Francyne Charland will present their recent trip to Vietnam "A Vietnam Sampler"–with Alex's excellent photography.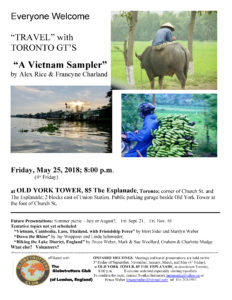 Our Buffalo friends, Linda Schmieder and Jay Wopperer have offered their Youngstown, N.Y. house for our summer picnic. Some overnight accommodation could be provided. Is this possible or too many problems crossing the border? Will discuss at the meeting.
For information on Ontario meetings, please contact Svatka : hermaneks@yahoo.ca or Bruce : bruceaweber@hotmail.com / tel. 416-203-0911. Meetings and travel presentations are held on the 3rd Friday in January, March, May (4th Friday), September and November at 8.00 p.m at Old York Tower, 85 The Esplanade ( corner of the Esplanade & Church St.) – two blocks east of the Union station. Public parking garage is at the foot of Church Street right next to the Old York Tower.