Speaking this month we have:
1st: Jane Wilson-Howarth – health work and wildlife encounters in Nepal
Jane is a medical doctor and wildlife enthusiast and has been privileged to have been able to spend six years in Nepal in the 1990s and a further four years most recently including during the pandemic. She will give an illustrated talk about her health work and introduce you to some of her favourite wildlife characters.
She is undecided whether Machhapuchare or Ama Dablam is the more beautiful mountain. Jane has written nine books including three health guides and five set in Nepal. Her author website is www.wilson-howarth.com and she's on Instagram as @longdropdoc.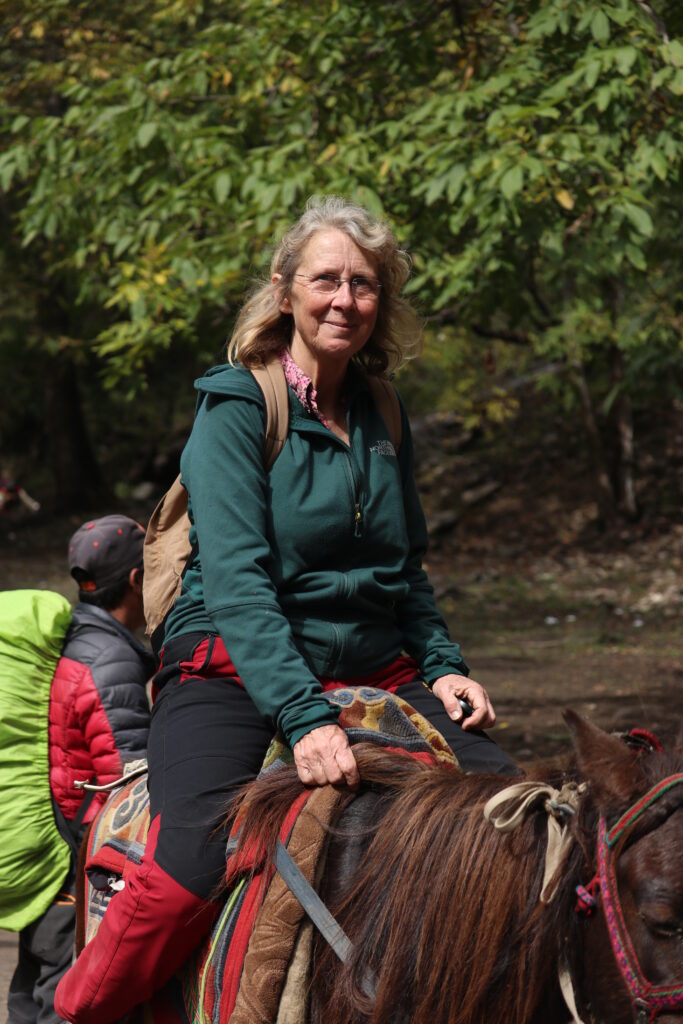 2nd: Nori Jemil – The Travel Photographer's Way
Nori Jemil is an award-winning photographer, writer and videographer. Her work has appeared in publications including National Geographic Traveller UK, BBC Travel, Adventure.com and Conde Nast Traveller. Over the past decade she has won several awards, including Travel Photograph of the Year from Wanderlust travel magazine, and Photographer of the Year from the British Guild of Travel Writers. She teaches film and photography in London and on specialist overseas tours, including for an expedition company
in Chile. Her photos have been exhibited in London, Milan, Barcelona and Madrid. She takes on regular public speaking engagements at travel photography events and as part of National Geographic Traveller UK's Masterclasses and Travel Geeks programmes.
The Travel Photographer's Way – by NorI Jemil and Bradt Guides
SHORTLISTED IN THE Edward Stanford Travel WRITING AWARDS: Photography Travel Book of the Year
A ground-breaking practical photography book considers not just how to get better images, but also why and when we should take them. It guides the reader to become a more confident and reflective travel photographer, as well as covering the technical know-how they will need.
Taking a journey around the seven continents, each chapter focuses on the main areas of travel imagery, from people and landscape to architecture and adventure. Bite-size advice on how to get the best from your camera is contextualized throughout the The Travel Photographer's Way so you learn as you go.
Nori's book is not an attempt to replicate other reference works on the subject, top-loading technical information and addressing an expert reader. Nor does it focus on gadgetry – the proliferation of new hardware means camera-based information can become obsolete quite quickly. Instead it is a travel companion, a book that can be read for the prose and stories, as well as the information it contains.It covers the main elements of travel photography in eleven sections, including advice from some of the best travel photographers working around the world. Technical information is embedded, given in the context of each shot, but personal travel stories are at the heart of every chapter.
Find out more at:
---
Date & Time:
Saturday, May 7, 2022
Doors open at 14:00 BST in London.
For conditions of entry for COVID-19 please see https://globetrotters.co.uk/covid-19-status-at-meetings.html
We would ask that anyone with symptoms or who needs to isolate participates via zoom.
Last month's meeting was very successful, the hall is well ventilated and we had no outbreaks following the meeting.
The zoom meeting opens at 14:00 with the talks starting 14:30 BST (London time see Event Time Announcer for local times), please arrive early so we can deal with any issues with joining.
For forthcoming meetings:
we charge £3 for members to cover our costs. Members will be emailed a ticket code link allowing access to this option or you can access it from the members area.
we charge £6 for non-members, non-members may join the club for £12 per year and get this and future meetings at members rate for £12, members can also watch the 3 previous online talks, members also receive Globe our members magazine and our annual members calendar, why not join and enter your pictures.
a catch up recording to watch later will be available to members and non-member ticket holders.
---
For in person Tickets at the hall:
For Zoom online tickets: