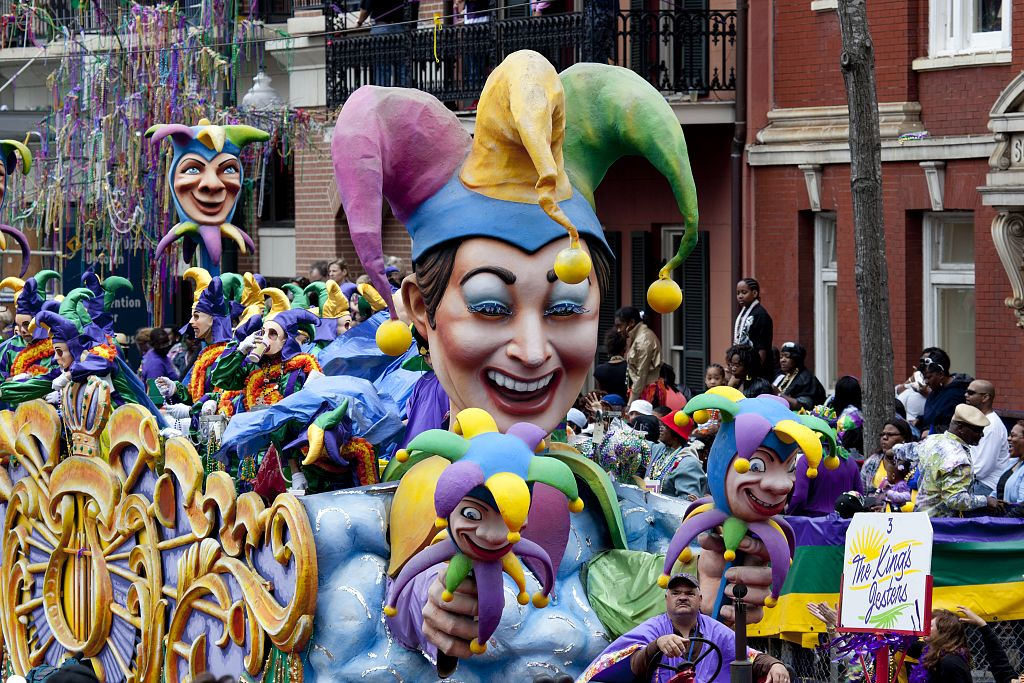 From Mardi Gras and exploring the historic French Quarter to cocktail themed tours there is something for everyone in New Orleans, a place where centuries old architecture is the backdrop for all ventures. Here are 10 reasons why visitors should visit in 2017.
1) It is easier than ever to get there…
From 26th March, 2017 British Airways will launch a four times a week service from London Heathrow to New Orleans. The route will be operated by a three-class Boeing 787-8, with return fares starting from £599. This service marks the first direct flights from London to New Orleans since the early 1980s.
2) The city is a culinary adventure
In a city with more than 1,400 restaurants to choose from, New Orleans offers a variety of cuisines. From foodie festivals, street food, cooking schools and restaurants galore, there are endless options available that are sure to take taste buds on a culinary adventure. Local chefs and restaurants are constantly evolving, utilising local and seasonal ingredients that reflect the uniquely diverse culture of New Orleans.
Some of the best cuisine is showcased during the annual COOLinary New Orleans Restaurant Month each August, with restaurants offering special discounts.
3) New Orleans is one big stage 
It is said that in New Orleans, music echoes from every corner. The city is the birthplace of jazz and a mecca for gospel, R&B and ultimately, the rock and pop many love today. Musical magic is alive on the streets and in the clubs of New Orleans. Witness an impromptu live performance on Royal Street, experience unbelievable live musical performances from intimate venues on Frenchmen Street to places like the Smoothie King Center.
4) Mardi Gras
For a few weeks in the early part of each year, dozens of brightly festooned, themed Mardi Gras floats carrying krewe royalty, celebrities, and masked members lead marching bands and riders on horseback, flambeaux carriers and others through the streets of New Orleans. They bestow beads, doubloons, and other prized trinkets to millions of revellers witnessing "the greatest show on Earth."
Carnival season officially begins January 6 every year and continues through Fat Tuesday, which falls on the day before Ash Wednesday. This year's parades will take place between January 6th and 28th February, 2017. Click here for the 2017 schedule.
5) A lot more reasons to party!
Celebration is at the core of the New Orleans' experience, and to get a true taste of the city, every visitor should join in one of these unforgettable festivals. Whether it is music, food or the arts one loves (or all of the above), they'll want to join in as New Orleans lets its hair down and declares, "laissez les bons temps rouler!" (let the good times roll). Visit this page for a calendar of events. Many of these are free – French Quarter Fest, Satchmo SummerFest, Po-Boy Preservation Festival, Wednesdays at the Square and, and of course, Mardi Gras.
6) Free things to do
New Orleans offers a plethora of free activities to choose from. Walk among the centuries-old oaks of City Park, picnic in the picturesque Audubon Park or enjoy views of the Mississippi River at Woldenberg Park. Stroll along Bourbon Street, Frenchmen Street and Fulton, where jazz pours out onto the street, or duck into a club for the full experience. Many clubs don't even charge a cover. Explore New Orleans neighbourhoods and their connection to jazz with six self-guided Jazz History Walking Tours. Click here for a list of free things to do in New Orleans.
7) New Orleans will host NBA All-Star 2017
New Orleans has been selected to host NBA All-Star 2017. The 66th NBA All-Star Game will be played on Sunday 19th February, at Smoothie King Center – home of the New Orleans Pelicans. This will mark the third time New Orleans has been the site of the league's annual midseason celebration, having previously hosted the event in 2008 and 2014.
8) Visit the River Road's plantation homes
The River Road is an easy jaunt from New Orleans. This is where visitors will find several majestic plantations including Oak Alley, San Francisco, Laura, Destrehan, Houmas House and more. These homes will sweep visitors back in time with period furnishings, folk art and craft demonstrations, lush gardens, landscapes and more.
9) Cocktails and brews
In New Orleans, a great drink is just as important as a great meal. New Orleans' signature drinks are almost as famous as the nightlife bars and hot spots that make them, check out this list for a list of New Orleans cocktails and where to enjoy a Sazerac, Hurricane or French 75.  There are cocktail walking tours which tell you the history of the city whilst you taste some of these classics and you can even bring your drink from one bar to the next in a "cup to go".
Beer enthusiasts should not miss the 8th annual NOLA on Tap Beer Fest. The one-day event, taking place in New Orleans City Park in September is the largest event of its kind in the region and allows beer aficionados to sample more than 400 local, regional and nationally homebrewed and microbrewery beers.
10) Museums
From food, culture to music, New Orleans has a museum for every scholar at every age.  Learn about the cuisine of South East Louisiana at the Southern Food & Beverage Museum, celebrate fine arts at New Orleans Museum of Art, ride a hummer during the WWII Museum Victory Theatre's 4D cinematic experience and discover where Mardi Gras is made at Blaine Kern's Mardi Gras World, the largest float-building warehouse in the world.
For a comprehensive list of museums please visit this page.
11) Lagniappe (A little something extra)
New Orleans is the perfect gateway to the rest of Louisiana and the Deep South, where visitors can enjoy beautiful state parks, a plethora of historic sites, take airboats tours in the bayous, and get a closer taste of the Cajun culture, and so much more.
Visit this page for a 3 days itinerary of New Orleans.
For more information, please visit www.neworleanscvb.com, @NewOrleansCVB on Twitter, 'like' on  Visit New Orleans Facebook and follow us on Instagram (VisitNewOrleans). Or visit www.louisianatravel.com, @louisianatravel on Twitter.