Hearing that Dublin has over 1,000 bars made it sound the ideal place in which to celebrate a 50th birthday! The Irish Tourist Board has an accommodation reservations service with access to over 11,000 approved properties from hotels, B&Bs, hostels, farmhouses to self-catering, in all parts of Ireland. They can be contacted on a freephone number 800 668 668 66.
Our B&B was in the suburb of Clontarf and we reached the city by local bus. It's best to buy a three-day bus pass as this gives unlimited use on any bus and saves you the bother of needing the exact fare. As the small bus was often at the 'standing room only' situation when we joined it we were pleasantly surprised to be always offered the seats of the young men passengers. Irish hospitality indeed! Or perhaps it was a sign that we had reached middle-age!
There was plenty to do in the city to fill three days. We spent a morning looking round Trinity College. Founded in 1591 by Elizabeth I it has a fascinating old library which contains the Book of Kells, wonderfully decorated copy of the gospels in Latin and created by the scribes of Kells around 800. Upstairs is the Long Room, almost 209ft in length and containing 200,000 old books on two floors of shelves. In another building we watched a 45-minute audiovisual describing the founding and history of Dublin to the present day.
Hodges Figgis, a book shop established in the 18th Century and which has a cafe in situ, sounded an ideal venue for lunch. It was an amazing shop, on three floors plus a basement. Pure paradise for booklovers! The cafe was also excellent, serving wholesome food in a pleasant setting.
Next day we visited the Viking Museum. We were first taken by "boat" to a Viking settlement where actors in period dress escorted us around their encampment showing us how they lived in Viking Dublin. Later, we were shown some excavations and artefacts from the Viking era.
Time for a Guinness in Davy Byrne's in Duke Street which was made famous by James Joyce in
Ulysses when Leopold Bloom stopped there for a Gorgonzola cheese sandwich with mustard and a glass of Burgundy! Gallagher's Boxty House in Temple Bar was a good venue for an evening meal. It's very popular so is best to book in advance. A boxty is a traditional Irish potato pancake, stuffed, crepe-style and served with a variety of savoury fillings. The place had an olde world decor with recorded traditional Irish music.
Another morning we visited the Botanical Gardens which has free entry – and nearby is the Prospect Cemetery, a huge area of graves including those of Irish National Leaders Daniel O'Connell and Charles Stewart Parnell whose grave is covered by an enormous granite rock. Other graves are those of Michael Collins the Irish politician and Sinn Fein leader, the English poet Gerard Manly Hopkins and Sir Roger Casement whose remains were brought here for a State funeral in 1964 nearly 50 years after his execution by the British for treason.
That afternoon we visited the Writers' Museum. It is in a well preserved 18th Century house containing many splendidly decorated rooms in which are displayed photographs, paintings, letters, manuscripts, first editions and other memorabilia and personal items relating to Jonathan Swift, George Bernard Shaw, W.B. Yeats, James Joyce, Samuel Beckett and other, more modern writers. There is lots to absorb so we were pleased to then retire to the clean and pleasant cafe for a coffee and cake before listening to a 50 minute humorous recital by an actor drawing on the quotations of the writers. Time ran out.
We didn't get to visit the Guinness Exhibition, Shaw's Birthplace, the Irish Whiskey Museum, the James Joyce Museum, Malahide Castle … to say nothing of the 995 remaining pubs …
Dublin is really booming now, with half the population being under 25. Joining the EC in 1973 meant Ireland could take advantage of EC funding to help the country attract international investment. Improvements in education mean the country is producing exactly what the investing companies need – a young, well-educated, adaptable workforce with good communication skills. The Irish standard of living has now overtaken that of Britain and more people are emigrating to Southern Ireland than are leaving.
We took the train from Heuston mainline station to Killarney. Rain battered the windows as the train headed southwest. It was lovely to see the old style signals at the side of the track, and the telegraph poles covered in rampant ivy! The train stopped several times at sleepy stations but there was little sign of habitation. However, even the smallest stations were decorated with window boxes and flowering pots.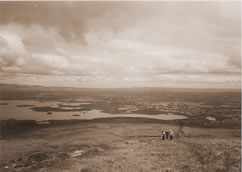 For the next week, after enhancing our cholesterol levels by making the most of the full Irish cooked breakfasts; we then used Ordnance Survey of Ireland's Discovery Series map no. 78 to explore the area. Killarney is small and definitely geared for the tourists, being full of gift shops and pubs but fun for a week and the pub life was great with live Irish music every night.
We walked to Muckross Estate and in the House can see a free 20 minute film about the flora and fauna of the area. Our walks took us to the Torc Falls, Kate Kearney's cottage and the Gap of Dunloe, and to the Devils Punch Bowl at 2,000 feet. It was a glorious sight looking back down over the town of Killarney and beyond for about 50 miles – a landscape of softly rolling green hills dappled by the sun and clouds. Other walks took us to places named Tommies Wood and O'Sullivan's Cascade, and we walked a part of the Kerry Way which must be beautiful in fine weather but we saw it on a bad day. We could hear rushing waterfalls but they were out of view in the low cloud; we passed through woods resembling something from Lord of the Rings with moss and lichens thickly cladding the tree trunks like overcoats. Amazingly tiny ferns grew out of clefts of rock and everything was coated in a fine mist.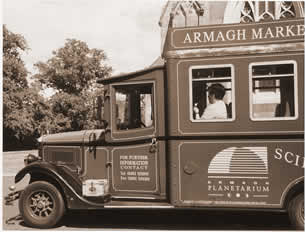 We returned to Dublin where we were met by friends who live in Amagh in Northern Ireland. They had insisted on driving to Dublin to collect us. "You know when you have crossed the border," said our friends, "all the petrol stations are empty". With petrol in the UK now being so expensive, the Northern Irish utilise their visits to the South by filling up with less expensive gas.
The Northern Irish "problem" was soon manifest. For a mile or so along one stretch of road the British flag would be fluttering from the lampposts and from the houses, then in another area the Irish flag would be in evidence. How difficult to live in an area so politically divided.
Amagh has some very imposing and substantial old buildings and some attractive side streets. The Tourist Information Office was in a complex consisting of three listed buildings and a redundant grain store which had all been restored. Within was St. Patrick's Trian, an exhibition on the life and work of St. Patrick who brought Christianity to Ireland during the 5th century AD, the development of Armagh and the 'Land of Lilliput', the latter celebrating the life and works of Johnathan Swift, author and clergyman who lived in this district.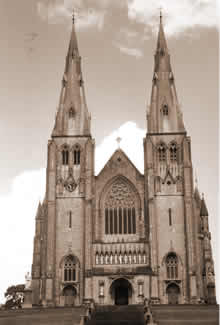 We visited the Catholic cathedral. We had the place to ourselves and were enchanted to listen to the organist practising. There was a modern, and rather strange, altar piece which our friends said put the congregation in mind of a couple of elephant tusks! After looking round the Protestant Cathedral a short walk away, we sat on the grass outside for the Courtesy Bus, a 1940's tiny 16-seater which had been restored and driven by volunteers. It was free and drove around the town stopping at all the tourist sights for the benefit of visitors. We asked to be put down at the nearest stop to our accommodation but the lady driver happily made an unauthorised stop nearer our destination "I won't tell anyone, and this old bus surely won't!"
We found the people in the North amazingly friendly. In the shops the local ladies involved us in their conversations and there was much laughter. Maybe living in such uncertain times makes a population more open. Next day we visited the Naivan Centre, a mile or two outside the town. We were the only two looking around. The site was the spiritual, political and cultural centre of its day and detailed archaeological excavations during the 1960s revealed a wealth of information including traces of man dating back to 550BC. The was plenty to occupy us for two hours with exhibitions showing the world of pre-Christian Ireland and the archaeological discoveries which revealed the ancient settlements of the place which had its heyday at about 200BC. Quite strange to have the museum to ourselves. It was modern and informative – such a shame for it to be so poorly patronised. The young man who took the money for our purchases in the shop after said he hoped the current Irish "negotiations" (this was June 1999) would herald an end to the problems and hopefully encourage more tourists to visit.
All the museums in town were excellent with audio-visual shows and computers on which to discover information. They had been financed and set up by the EC but unfortunately because of the lack of visitors they weren't self-financing at the moment and the burden was coming back on the local ratepayers. A few well-established shops in town had closed because of the high rates. Our friends felt it would better for the EC to encourage businesses to set up in town as that would create jobs and money to be spent in the area.
Northern Ireland is, understandably, being by-passed by the tourists which is a shame as it has very friendly people with beautiful countryside, modern museums, country parks, and castles to explore.