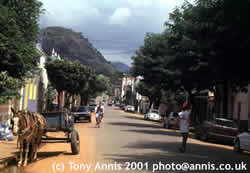 The driver pulled the bus round into the little bus station, the passengers stirred, I heard the whoosh of air as the doors opened and then the heat hit me. My boots met the ground; the dust rose and curled around my feet. Slowly my eyes lifted over the cycle park across the road, I smiled as I read the name of the small hotel -'Hotel Progresso'. Well, this time I could give it a miss but maybe another time and that could be another adventure. The locals watching this 'gringo', (in Brazil, this means any foreigner) step off, struggle on with his Karrimor back pack, then pick up the camera bag; the sweat breaking out as he moved like a laden donkey out from the bus station into the sun.
The whole point of being an independent traveller is to go to places that aren't so much visited by other tourists and this can be a small town rather than an exotic beach or famous mountain range. A place you can move and talk among the locals, who are not yet bored stiff with tourists and find you an interesting stranger with knowledge of what they call, the old world.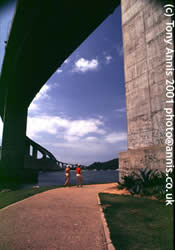 Alegre, a small town called Happy, was once a booming coffee town but now struggling to survive after the price of coffee collapsed worldwide. I was here to spend Christmas before moving on to the coast for New Year. I was trying some thing different, instead of travelling through the usual tourist States of Brazil; I thought it be a good idea to visit a State much overlooked by overseas visitors, though not by Brazilians.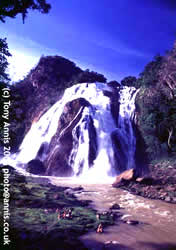 Espirito Santo sandwiched between lovely Rio de Janeiro in the south and exotic Bahia in the north is often missed out in a rush to get from one to the other. Our start point, Rio and from there we could pick up a local 45 minute flight to Vitoria, the State Capital, or maybe, catch a bus, drop in to Buzios the St Tropez of South America for a hedonistic week end on the way but I'd been there, written the article, bought the T shirt and I'm still recovering from all the excesses. – So, instead we caught an overnight bus, a sleeper, to Alegre, on the border of 'Parque Nacional do Caparao' a national park that includes the 'Pico da Bandeira'. Wild walking country that has many amazing waterfalls, my favourite is 'Cachoeira da Fumaca'. A waterfall, surrounded by countryside and great swimming in warm running water – A magic place to wild camp and where I spent a never to be forgotten Christmas day.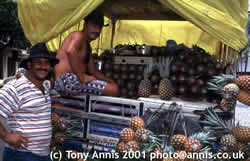 Walking down Alegre's main street I made my way through the town squares with some of its Portuguese colonial buildings still surviving into the 21st century it seemed to be rather calm in fact a bit too quiet. Suddenly about 1030 pm that night, the town square exploded with song and fireworks as the students of this University town broke lose for their Christmas holidays and celebrated the whole night long in the town square.
The town also hosts Brazil's Festival of Popular Music at Corpus Christi, Wed. through Sun. in May or June. 50,000 young people arrive from all over the continent and even Europe, to flood the hotels, rooms and campsites of this small town. So even small towns can open your eyes with surprises you never expected to encounter. Sadly, on the 31st December just after I had to leave for the coast they were holding a cycle ride that followed all the surrounding now defunct railway lines, the engineer in charge at the time being a Brit. – Killed in the cross fire of Lebanese and Italian immigrants in the 19th Century.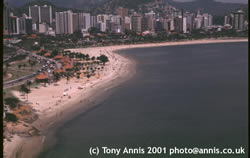 Vitoria has now become one of my favourite Cities, a place of approximately one million people and is big enough to be exiting yet small enough to be controllable. A port built on five islands with, in my view, the best, cleanest, city beaches that I have seen.
The football, volleyball pitches, the flowers near the cycle track, that runs by the sea and the small beach bars make for a great city seafront. Seafood is what should be eaten here and Vitoria is home to the typical local dish 'Moqueca Capixaba', a fish dish cooked in a dish called 'Panela de Barro'. The panela or pan and its making has come down the centuries by word of mouth and I'm not saying it is good but the girl who cooked me the first one I tasted, became a very close friend! 'Paneleiras de Goiabeiras' make the authentic pots and are more than worth the effort of taking a couple home even though they are heavy and fragile.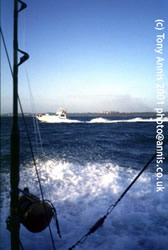 The Yacht Club of Espirito Santo is famous as the best place for Marlin fishing in the world and holds the record for the biggest Marlin caught. The club is extremely hospitable and I had a great day out fishing but I caught too much beer rather than fish and had to forgo the pleasure of a game of squash on my return to the club! The mixture of past Portuguese Colonial, modern buildings and cycle ways makes Vitoria a great place to live as well as visit and is one of the places that I might well settle down later in life.
Now I think I'll let you know about a very special place and I just have to hope not too many of you actually go there. This is a fishing village 85 Kilometres from Vitoria, saved from anymore building, by law, and because it is in a sandy bay framed by beautiful rocks at each end cannot extend itself any further.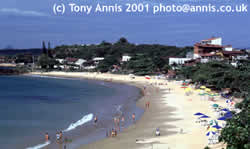 Ubu is a very special place, it is the perfect in between, not completely deserted but not over saturated with Brazilian tourists or any other visitors. One end of its 1.5 Km. curved beach is an extremely good Possada called 'Aba Ubu' which has a pool, volley and tennis courts, and does a very good buffet that is value for money. Along the front are small thatched huts serving drinks and cooking fish straight out of the sea. Wind surfing is popular on a beach that has a pleasant breeze but not many waves. The other end of the beach is a peninsula with the luxury 'Pontal de Ubu Hotel at the top.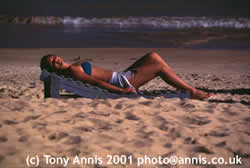 The hotel's rooms overlook the sea breaking over the rocks with the large red ball of the sun rising out of the sea at dawn. Horses and bicycles can be hired here, also diving and surfing is possible on nearby beaches. Ubu is a place to chill out and has one really first class inexpensive seafood restaurant, 'Peixada do Garcia.' Beach towns twenty minutes bus travel on either side have nightlife, crowds and party as only the Brazilians know how.
I mentioned to one of the locals that I might write an article about Ubu and he said, "Please don't say too much, we don't want this place to be inundated by Europeans and ruined like Provence, in France." So, should you visit, mention you read the article in 'Globe Magazine' but forget who wrote it – Because I will return and I want to be welcomed back in this unspoilt fishing village in Espirito Santo.