Everyone Welcome "TRAVEL" with TORONTO GT'S.
The TORONTO GT'S are extremely happy to let you know that our annual picnic is held on Sunday, August 30, 2020 on Algonquin Island (Bruce Weber's front yard).
TORONTO GT'S PICNIC TORONTO ISLAND
Saturday, August 14, 2021
any time after 1:30 p.m.
at Bruce Weber's, 3 Oneida Ave. Algonquin Island.
Potluck: Bring some food and drinks to share
Pedicab, rowboat and canoe will be available. — Anna's world quiz (we hope)
Take the ferry to "Ward's Island" (leaves at 10:30, 11:00, 11:45 , 13:00 13:45)
(Get your tickets on-line and leave early (you can deposit your 'stuff' at Bruce's house, take a walk around the island, or go to the beach.
Please note that these days, on weekends the ferry is quite crowded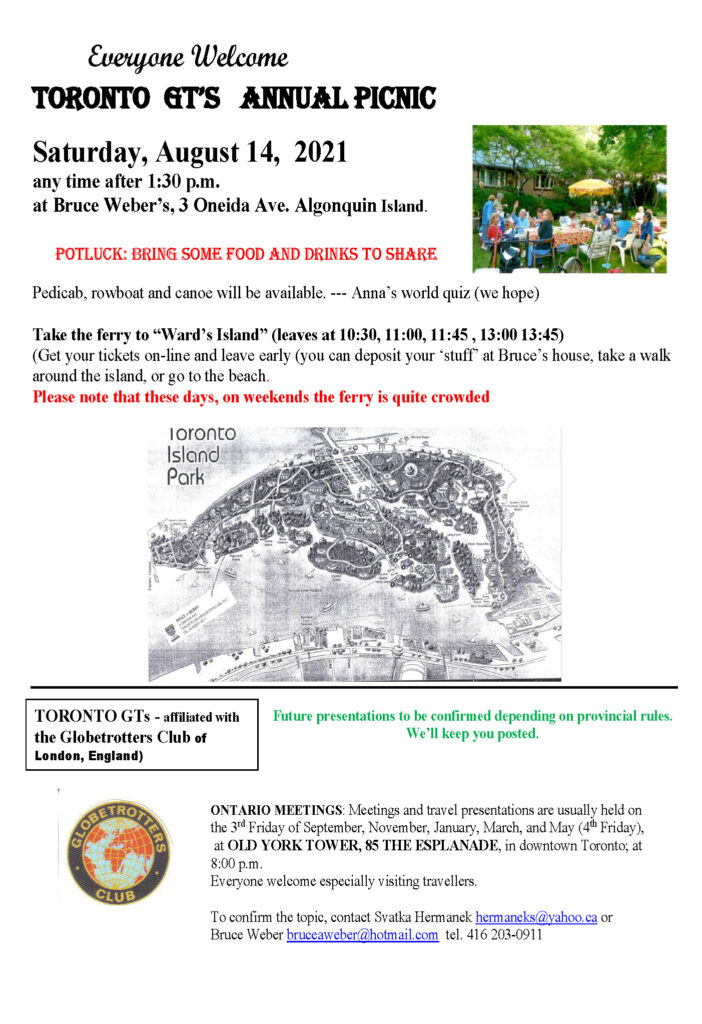 For information on Ontario meetings, please contact Svatka : hermaneks@yahoo.ca or Bruce : bruceaweber@hotmail.com / tel. 416-203-0911. Meetings and travel presentations are held on the 3rd Friday in January, March, May (4th Friday), September and November at 8.00 p.m at Old York Tower, 85 The Esplanade ( corner of the Esplanade & Church St.) – two blocks east of the Union station. Public parking garage is at the foot of Church Street right next to the Old York Tower.