Globetrotters in Chester
Presents
Kevin Brackley – Mysore, India, outside the bubble.
Kevin Brackley: has been a Globetrotter for over 30 years, visiting over 80 countries. His talk will be based around his second trip to Mysore in February 2015, the people he met and the places he visited after he had finished his 4:30am yoga practice.
Sean Mooney – Left my heart in San Francisco but my wallet in Las Vegas.
Sean's talk will focus on the journey of the solo traveller around different parts of California and Nevada e.g. San Francisco, Los Angeles and Las Vegas. San Francisco trip will look at the America's cup sailing competition, different attractions around the bay area, as well as visits to the aquarium, science museum, whale watching, exploring San Francisco the city and Yosemite National Park.
Los Angeles will focus on Hollywood, the film industry including photos from studio tours, walk of fame, key monuments within LA including the Hollywood sign, Chinese Theatre etc. Attending the opening ceremony of the Special Olympics, events at Long beach and navigating LA's public transport system.
Las Vegas will focus on the many different wonders it has to offer from what people expect in terms of the strip, which is considered the hub of Las Vegas to the different tours available from visits to the Hoover Dam, Grand Canyon, Wet n Wild Water Park (In the desert, which is a wonder in itself) to the variety of shows and concerts on offer, e.g. Blue Man Group, Celine Dion, Country Superstars, Variety Shows etc. My Las Vegas talk will also look at the stark contrast of Vegas during the day and at night as well as my main reason every year for visiting my Star Trek convention held at the Rio Suites Hotel. Be prepared for a talk that will literally have you beaming from one location to another!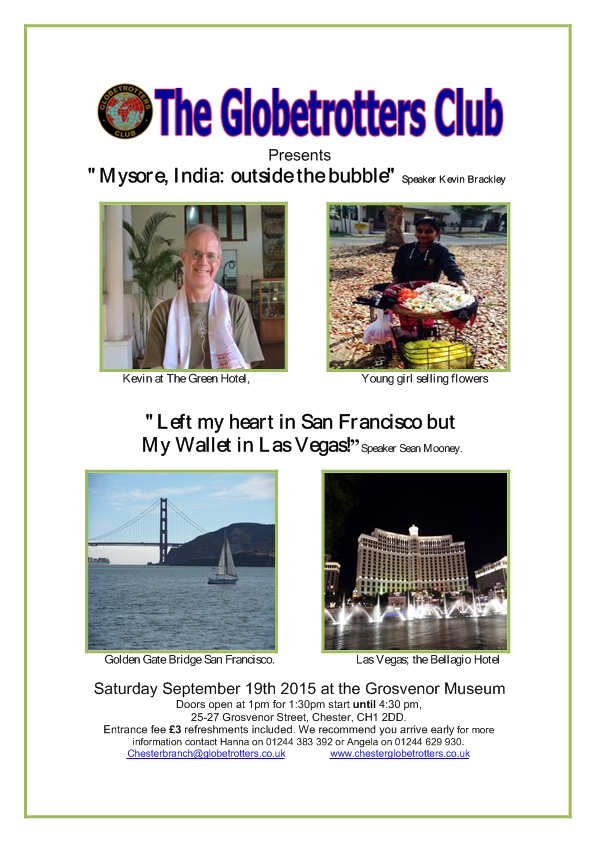 Doors open 1pm for 1:30pm Start till 4:30pm
Entrance Fee £3.00 includes refreshments and two talks
Grosvenor Museum
25-27 Grosvenor Street, CH12DD
Enquiries to Hanna tel: 01244383392 or Angela tel: 01244 629930