Globetrotters in Chester
Presents
Barrie and Ruth Axtell – 'An European journey by train'.

This talk gives tips on how to make the most out of your Interrail pass plus details of organising journeys , booking night sleepers, upgrading etc

In addition, descriptions of visits made to Brussels , Berlin , Krakov, Budapest and Vienna are illustrated in this highly entertaining slide show.

Darren Axe – 'Aotearoa; Journeys into the Long White Cloud'.

Darren is an International Mountain Leader with a passion for sustainability in the mountain environment. In 2007 he spent 6 months living in Wellington, capital city of New Zealand. Throughout this period and a return visit almost 10 years later he has explored the dynamic and varied landscapes of this primeval remnant of the paleo-supercontinent Gondwanaland.

Aotearoa; Journeys into the Long White Cloud is an illustrated tour of this isolated archipelago with its unique biodiversity and strong cultural identity. The talk also delves into the environmental challenges facing modern-day New Zealand as a reflection on the epic journeys involved in getting 'there and back again'.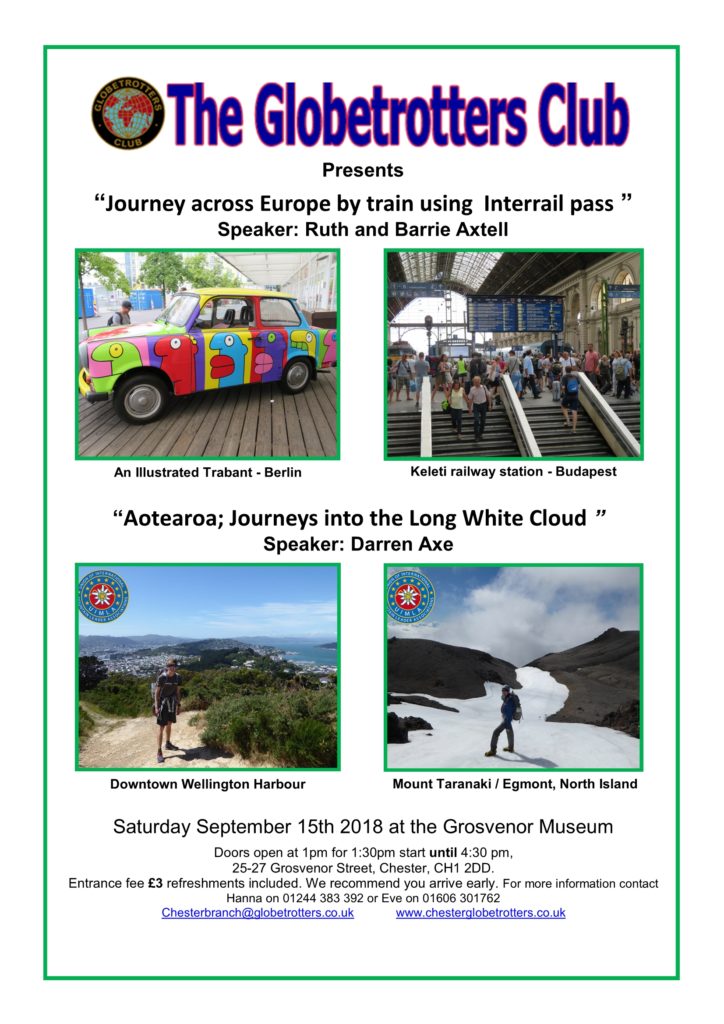 Doors open 1pm for 1:30pm Start till 4:30pm Entrance Fee £3.00 includes refreshments and two talks Grosvenor Museum 25-27 Grosvenor Street, CH1 2DD Enquiries to
Eve 01606-301762
Hanna 01244-383392