Globetrotters in Chester
Presents
1st. Sarah Crofts — Veedub adventures – travels with my daughter
When Sarah took her ten year old daughter Tabitha out of school and embarked on an epic road trip the only thing they knew for certain was they would head north whilst it was warm and south when it got cold, 382 days and nearly 28000 km later they landed back on British soil.
This is the tale of their epic adventure from the Arctic Circle to the Sahara desert.
2nd. Don and Eve MacPherson — Myanmar Revisited
We took in a brief itinerary of Yangon, then journeyed on to Maymyo to see the Hill Station. Then we went to British Burma. The journey continued to Mandalay cruising along the Irrawaddy river to old Bagan. Next stop, a flight to Inle Lake to visit local villages along the canals before returning to Yangon, and ending the journey in Singapore.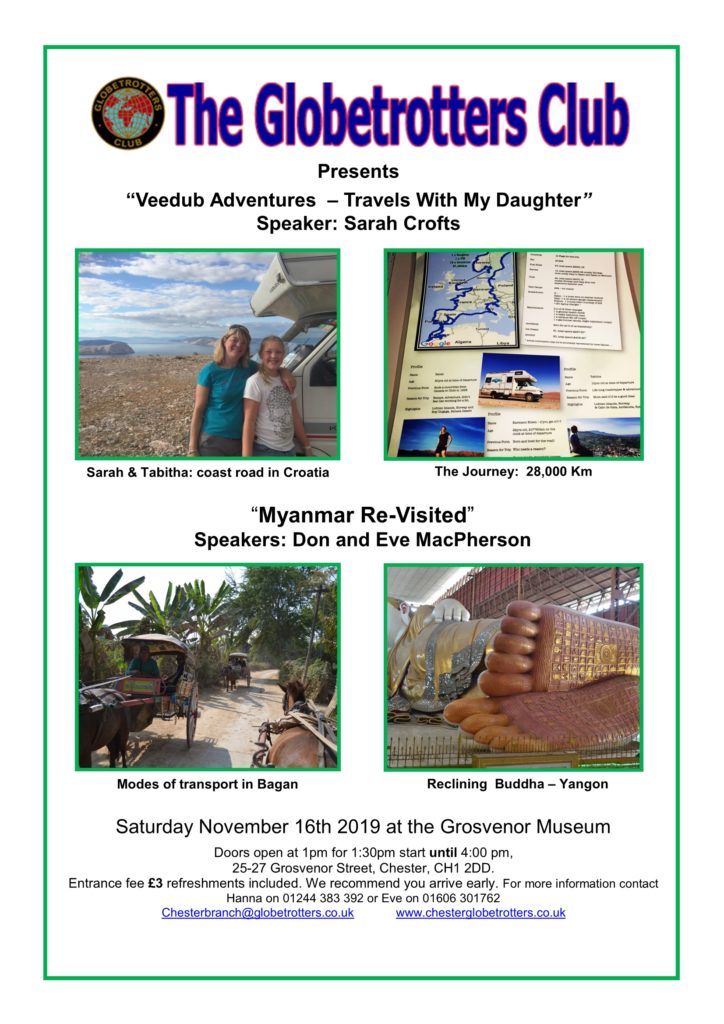 Doors open 1pm for 1:30pm Start till 4:30pm Entrance Fee £3.00 includes refreshments and two talks Grosvenor Museum 25-27 Grosvenor Street, CH1 2DD Enquiries to Hanna tel: 01244383392 or Angela tel: 01244 629930
>