Globetrotters in Chester
Presents
1st. Paul Gillingham – freewheeling in Chile and Argentina.
Paul visits Santiago and Valparaiso in Chile, rents city bikes to sample the Argentine grape in Mendoza and explore tango, Evita and Maradona in Buenos Aires. He joins his two sons on a cycle-camping expedition around the lakes and volcanoes of northern Patagonia.
Now retired, Paul taught history in UK, Canada, Tanzania and Hong Kong before becoming a journalist and broadcaster, producing travel features from around the world.
2nd. Chris Prior – from Tangier to the Sahara by motorcycle
Together with 17 other motorcyclists I rode my Triumph Tiger through Spain to Morocco. From Tangiers we travelled over the Atlas Mountains to the Sahara at Merzouga.
The return route included dirt roads around the Todra Gorge. After a stop at Ben Haddou we travelled to Marrakech and then headed north back to the port of Tangiers. Six days were spent in transit through Spain and eleven in Morocco.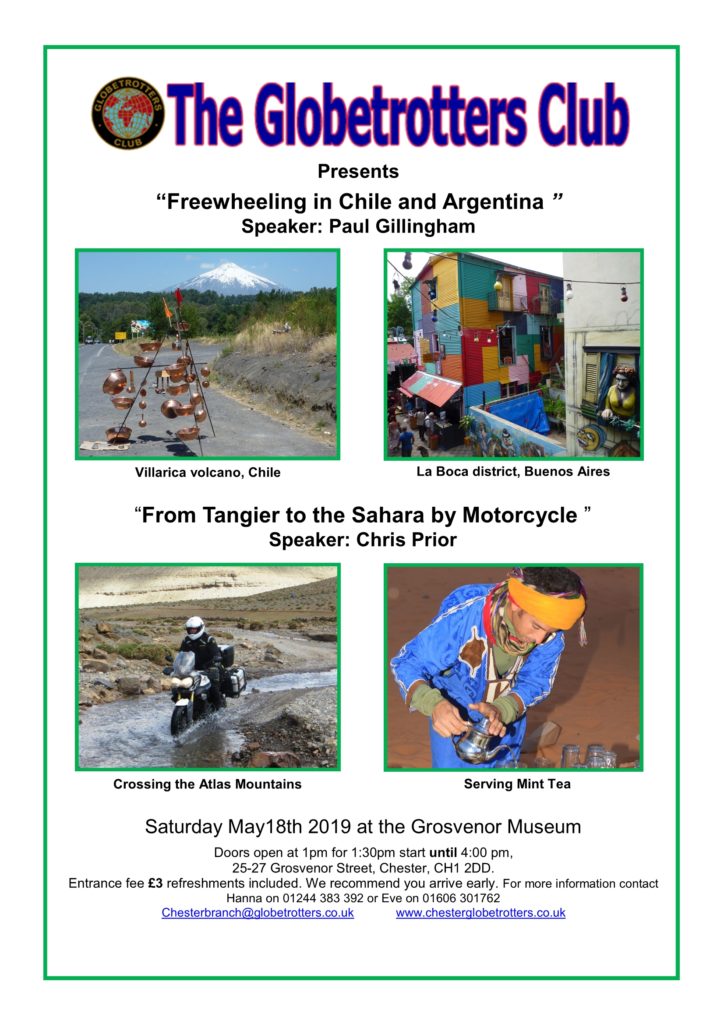 Doors open 1pm for 1:30pm Start till 4:30pm Entrance Fee £3.00 includes refreshments and two talks Grosvenor Museum 25-27 Grosvenor Street, CH1 2DD Enquiries to Hanna tel: 01244383392 or Angela tel: 01244 629930