Globetrotters in Chester
Presents
1st. Anna Manning & Howard Jennings – Mallorca to Venice by tandem, boat and train
We were offered 18 days of dog-sitting and wondered how best to use it. We love Mallorca and wanted to see where we could get to that was reasonably nearby. Our trip has five stops joined by tandem, boat, and train and takes us through three countries: Spain, France, and Italy. We'll describe how we put the trip together, our adventures along the way, the food we ate, the views we saw, and the people we met.
2nd. Marion Round – A journey through Welsh Patagonia
In 1865 153 Welsh people embarked on a journey to Patagonia, they were promised a fertile land with fresh water; this is not what they found. The 2 main areas where the Welsh have settled are now thriving, with the Welsh language and culture is increasing. We travelled through the Welsh areas, and across the huge Desert separating them, looking at fascinating places where few people ever get to.
Marion comes from a Welsh family, and ais re-learning the language.
Marion enjoys travelling to interesting places with small group tour companies.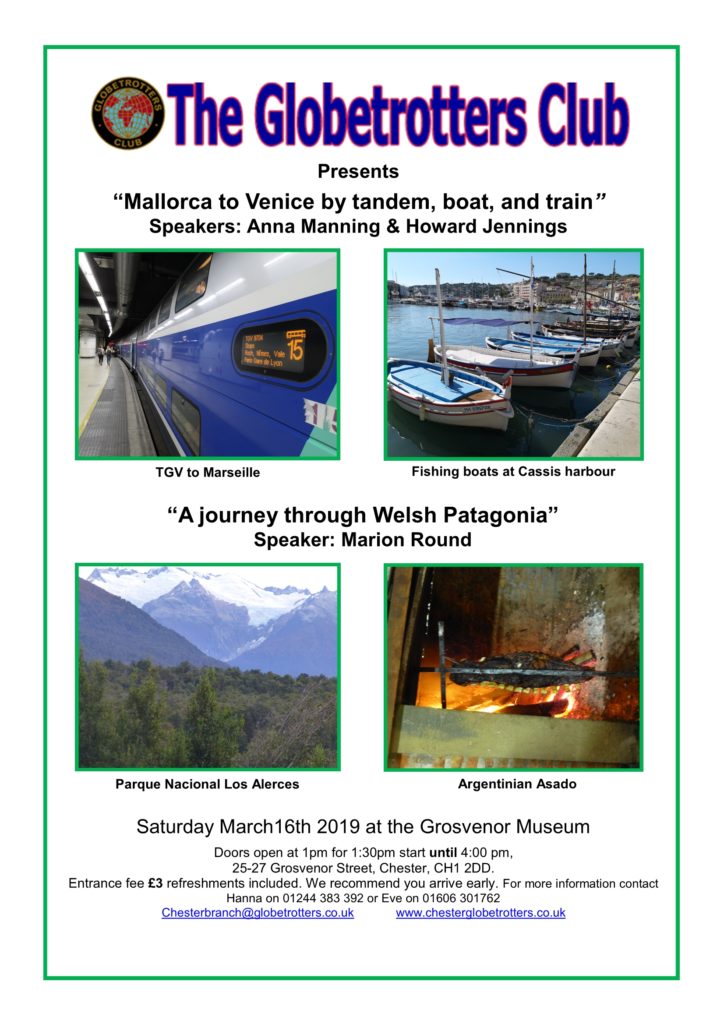 Doors open 1pm for 1:30pm Start till 4:30pm Entrance Fee £3.00 includes refreshments and two talks Grosvenor Museum 25-27 Grosvenor Street, CH1 2DD Enquiries to Hanna tel: 01244383392 or Angela tel: 01244 629930