Globetrotters in Chester
Presents
David Redford: "Glimpses of the Nile -and echoes of the great explorers"

After retiring from the NHS, David Redford has worked with an International Development project delivering life saving skills in childbirth. This has taken him to a number of African countries, some rarely visited by tourists, and has gradually stimulated his interest and reading into the history of the River Nile, and also the great Victorian explorers who strove to answer the centuries old question – "Where is the source of the Nile?"

Pat Jones: "Mongolia including the Naadam Festival"

Pat Jones has enjoyed travelling for many years and has had many great travelling experiences. This show shares her memories of a wonderful holiday to Mongolia. She chose to go there when the Naadam Festival , which is held once a year in July , was on. Most of the accommodation was in Gers and she even joined in the building of one!!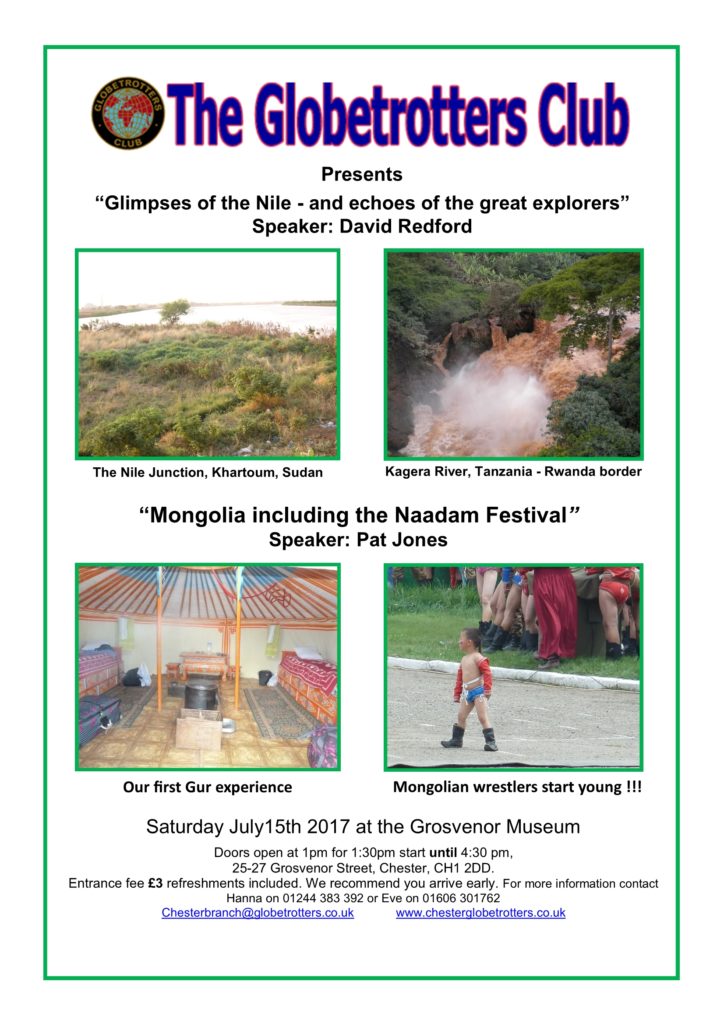 Doors open 1pm for 1:30pm Start till 4:30pm Entrance Fee £3.00 includes refreshments and two talks Grosvenor Museum 25-27 Grosvenor Street, CH1 2DD Enquiries to Hanna tel: 01244383392 or Angela tel: 01244 629930