Globetrotters in Chester
Presents
Trisha King – With my camera in Gujarat

India – love it or hate it. My first visit was as a very young engineer in 1980. I was reluctant to go, but it was love at first sight. More recently I have been holidaying in different parts of India at least every couple of years. I find myself happiest touring rural India, somewhat off the beaten track, and combining my fascination with the people and culture with my love of colour photography.

This talk is illustrated with 100 slides and focusses on the westernmost state of Gujarat, home to many so-called 'tribal' peoples. It touches on various topics including The Rann of Kutch, farming and irrigation, handicrafts, wildlife, stepwells, the Jain religion, and M K Gandhi, who was Gujarati.

Anna Manning and Howard Jennings – Bangkok to Saigon by Tandem.

The talk will cover a two week trip where we explored Thailand, Cambodia, and Vietnam by tandem. We will describe how bike travel can bring you closer to the country you are passing through and the preparation needed to embark on such a trip.

Not everything will be bike-focused: we will take time to describe the experiences we had from as many angles that we can think of so that you get a clear idea of the countries we travelled through. We aim to leave you in the position of having enough information to decide whether or not you would like to visit these three countries and whether a cycling holiday in this region is for you.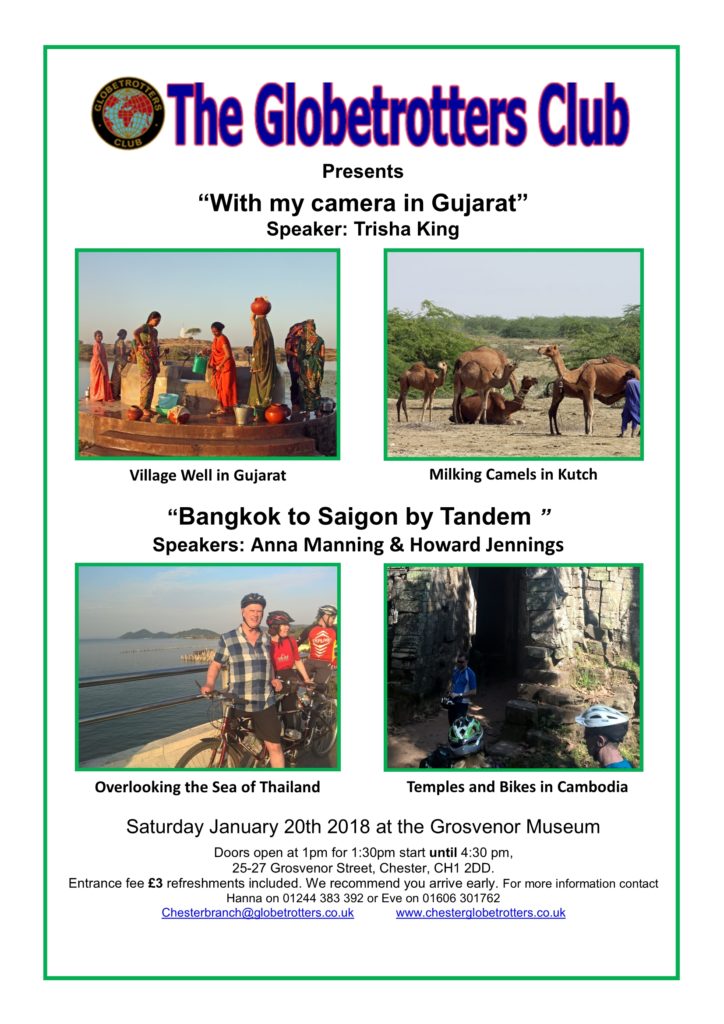 Doors open 1pm for 1:30pm Start till 4:30pm Entrance Fee £3.00 includes refreshments and two talks Grosvenor Museum 25-27 Grosvenor Street, CH1 2DD Enquiries to Hanna tel: 01244383392 or Angela tel: 01244 629930