Speaking in Chester in November we have:
"On the Road Again" speakers: Hanna Bastiaansen and Kevin Jones
"Round the Horn of Africa" Speaker: David Redford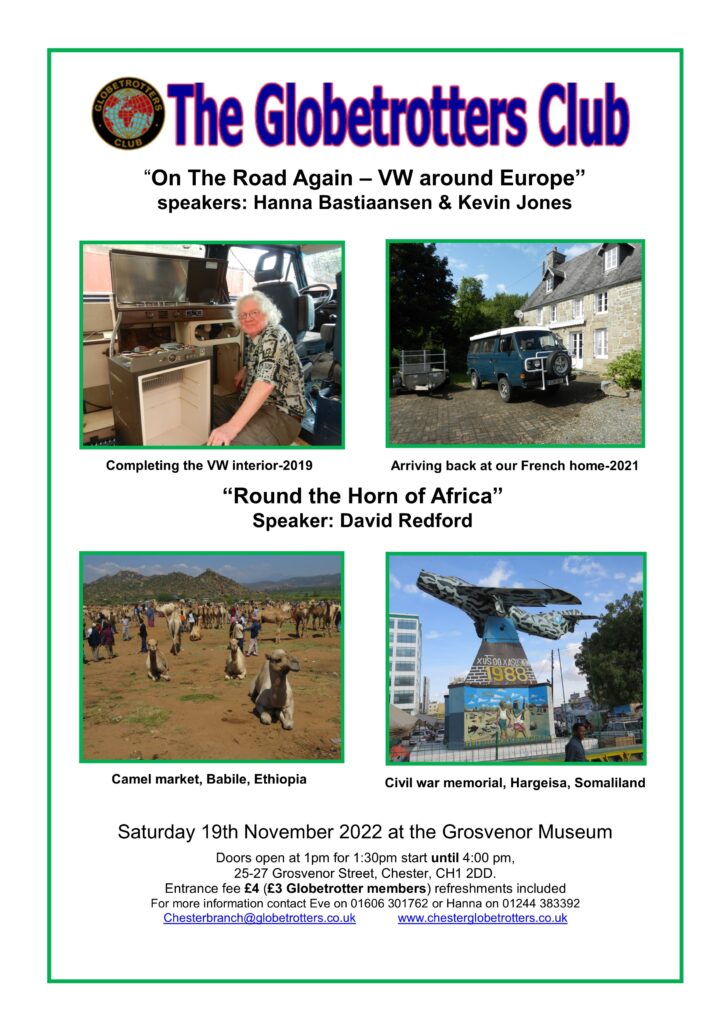 Hanna Bastiaansen and Kevin Jones
Over the years we have travelled far and wide not only to other countries, whilst starting the Chester Globetrotters Travel Group from 2009,  but also in our faithful 1986 Syncro VW camper covering much of Europe and beyond,  including Turkey and the former Eastern block countries right up to North Cape in the Norwegian arctic circle. After so many miles and with a two year restoration of the VW plus  a two year Pandemic delay we are finally off to visit Europe again including the Hanseatic trading cities on our way to spend  the Mid-Summer in Sweden, famous for its celebrations and historical significance for Europe  … at least that was the plan … so what happened to us?

David Redford
A report of two visits to the Horn of Africa, in 2018 and 2019, taking in Addis Ababa, the new railway to Djibouti, Lac Assal, Harar in North Eastern Ethiopia and Hargeisa and Laas Gaal in Somaliland. Along the way are hand fed hyenas, a camel market, a cheetah sanctuary and the cultivation  of Khat.
---
Doors open at 1pm for 1:30pm start until 4:00pm,
25-27 Grosvenor Street, Chester, CH1 2DD.
Entrance fee £4 (£3 Globetrotters members). We recommend you arrive early.
For more info contact Hanna on 01244 383392 or Eve on 01606 301762
chesterbranch@globetrotters.co.uk – www.chesterglobetrotters.co.uk