Globetrotters in Chester
The meeting for May been postponed to a future date due to the Corona virus and the national guidance on self-isolation and social distancing. We are running some online meetings in the meantime.
Presents
Christine Stockton – Impressions of Iran – Persian History and Culture.
A trip to "Classical" Iran told through its history. We visited historic and architectural sites from the early civilisations and First Persian Empire through succeeding dynasties, experiencing Zoroastrian and Islamic cultures, the beauty of seven Unesco recognised Paradise gardens, the poetry of Shiraz, the glories of Esfahan, the bling of the Qajars and life today under the Islamic Revolution. Our abiding impression is of the friendly and welcomign iranian people.
Nicola Young and John Sunter – Chasing Adventure in Namibia.
Join John and Nikki are seasoned travellers as well as some of our regular speakers and organisers talk about their African adventure in Namibia.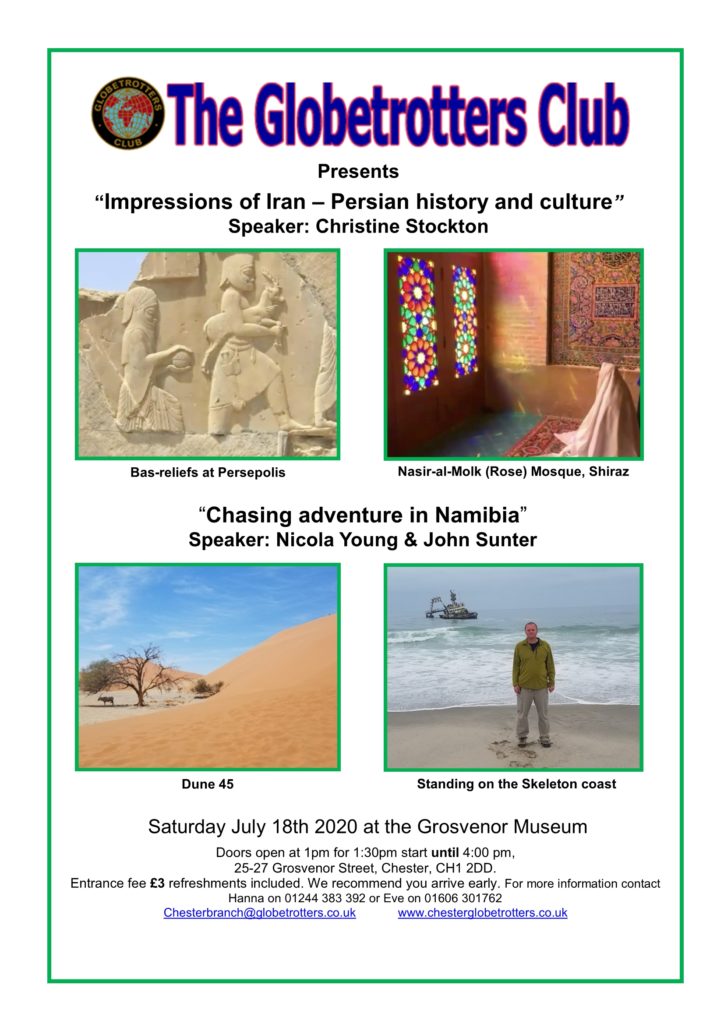 Doors open 1pm for 1:30pm Start till 4:30pm Entrance Fee £3.00 includes refreshments and two talks Grosvenor Museum 25-27 Grosvenor Street, CH1 2DD Enquiries to Hanna tel: 01244383392 or Angela tel: 01244 629930