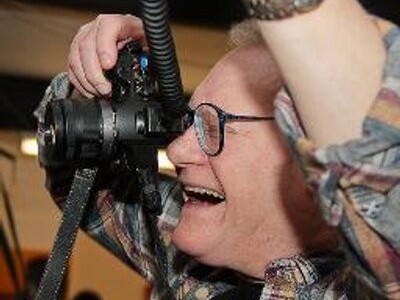 A seasoned traveller of deserts and jungles, Tony Annis, explains how he was conned in the urban jungle of Albuferia, Portugal.
Whilst in the water section of the supermarket Intermarche at approx. 1700 hours of the 7th September 2013, a group of three Brazilian girls approached me and asked for my help.  I speak Portuguese and lived in Brazil in the past and so know the accent. They asked for my help to find and lift down something from a high shelf, a litre size bottle of water that had a touch of lemon. Whilst trying to read the label of several bottles high up, she obscured me from seeing her friend or friends steal from my red bag that was in the trolley just behind me. I said to the main girl with me, that I could not help any further and called a staff member to help them.  It seems there was none of this item in stock at this size!
The entire event will all be on the Intermarche stores video system. The staff member in the water section also saw them and told the Police. The three young women seemed as if they were in the midst of traveling because their flip flops were very different from anything from around these parts.  Flip flops with diamantes in the strap were very different and they all wore this type of sandal. The main woman was probably in her mid to late twenties, with a multi-coloured long summer dress, brown hair with tanned, white skin and she was about 5ft 7 inches tall.  All were about the same height and age group.
I did not notice the missing Lumix G6 camera and with its lens until I was back at the hotel, approximately 20 minutes later, as I was carrying water plus wine, so the weight did not register as too light.  Immediately I rushed as fast as a man of 75 years can, back to the store and insisted the manager call the Police.  He was very reluctant to do this but I insisted and spoke to the Police on the phone.
They too did not want to come to the scene but again I insisted and a squad car came with a male and female officer.  The red bag I was carrying gave no indication that I had an expensive camera inside, so I think they just opened the bag quickly, grabbed the camera case without any idea of what they took. The Police took basic details and told me to report to a main Police station. This I did at the Albuferia Police station and the policeman was most helpful and I have copy of the paper work for John Lewis Insurance. Helping others is something that travellers do but be aware or you too could be conned, the urban jungle can sometimes be more dangerous than the dense green jungle itself.
---
First Published: Oct 8, 2014