Speaking this month we have:
1st. Gavin Boyter – Run the orient
Armed with a toilet trowel and a converted Mazda Bongo called Roxy, self-styled 'ordinary' ultrarunner, Gavin Boyter, embarks on his latest long-distance challenge: to run the 3400km from Paris to Istanbul along the route of the world's most illustrious railway journey, the Orient Express.
And, despite work on Roxy having hampered his training programme, Gavin remains undeterred and plans to run through eight countries, to cross 180 rivers and to ascend 16,500 metres, through forests, mountains, plains and major cities – aided all the way by temperamental mapping technology and the ever encouraging support of his girlfriend, Aradhna.
En route, Gavin will pass through urban edgelands and breathtaking scenery, battlefields and private estates, industrial plants and abandoned villages, and on through a drawn-back Iron Curtain where the East meets West. He will encounter packs of snarling, feral dogs, wild boar, menacing cows, and a herd of hundreds of deer. But he will also meet many fascinating characters, including a German, leg-slapping masseuse, music-loving Austrian farmers, middle-class Romanians, itinerant Romanies, stoic soldiers, and boisterous Turks.
However, confined to the cramped conditions of Roxy, and each other's company, Gavin and Aradhna's journey is not only a test of the endurance and stamina required to put in the hard miles, but of their relationship, too. After all, if they can survive this challenge, they can survive anything. But will Gavin's legs make it all the way to Istanbul, where he has planned a special surprise for Aradhna?
Born in Edinburgh in 1970, Gavin Boyter studied Philosophy and English Literature at Edinburgh University. He later studied at Sheffield where he gained a master's degree in Film and TV Drama. Gavin has been a writer ever since he could hold a pen. In 2015, he wrote and directed the romantic comedy film, Sparks and Embers, starring Kris Marshall and Annelise Hesme.
He has written numerous screenplays, including the psychological thriller Nitrate (with Guy Ducker). He recently completed his first novel, Elena in Exile, a crime story about a Romanian single mother adrift in London's colourful, and sometimes dangerous, Soho. An occasional runner until his midthirties, Gavin only became serious about covering long distances when he ran his first ever race – the 2005 London Marathon! His first book Downhill From Here: Running From John O'Groats To Land's End was published in 2017.
---
2nd. Brian Anderson – Easter Island (Rapa Nui)
Brian Anderson, MCSS lecturer and tutor, returns to give another exciting lecture
based on his world travels. In February 2019 Brian spent 5 days on Easter Island
(Rapa Nui) in the South Pacific visiting and photographing its key archaeological and
historic sites.
In this new talk he tells the amazing story of the Rapanui who settled in this remote
place and built the vast Moai statues; their way of life on this inhospitable island;
and the tragic downfall of their magnificent culture.
He concludes by looking at the island's community today and their efforts to protect
and conserve the unique Rapa Nui cultural legacy stretching back over 800 years.
Richly illustrated with Brian's stunning photography, this 45 min talk should not to
be missed by 'armchair travellers' and lovers of geography and history.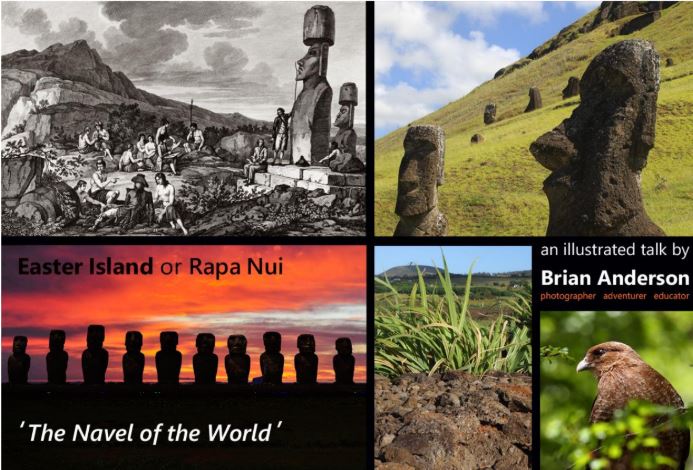 ---
Admission costs, we charge a small cash fee of £3 for Globetrotters members and £6 for non-members on the door to cover our expenses, tea/coffee and biscuits are included free in the interval between the talks.
You do not need to be a member to attend, and we do not sell advanced tickets, please just come on the day, the doors open at 2:15pm and the program starts around 2:30pm with each talk lasting between 45 – 60 minutes.
London branch meetings are held at The Church of Scotland, Crown Court, behind the Fortune Theatre in Covent Garden the first Saturday of each month, unless there is a UK public holiday that weekend.
There is no London meeting in August, but we start afresh each September. If you would like to keep up to date with what's happening at the Globetrotters London meetings and to be sent email reminders prior to the meeting, please sign up here