Globetrotters in Chester
Presents
Marion Round – 'A trip to Welsh Patagonia'.

I enjoy travelling to interesting places with small group tour companies. In 1865 153 Welsh people embarked on a journey to Patagonia, they were promised a fertile land with fresh water; this is not what they found.

The 2 main areas where the Welsh have settled are now thriving, with the Welsh language and culture is increasing.

We travelled through the Welsh areas, and across the huge Desert separating them, looking at fascinating places where few people ever get to.

Chris Prior – 'Colombia on motorbike'.

In February 2016, I joined seven other British motorcyclists to ride from Bogotá in the central uplands of Colombia to the Caribbean coast, returning to Bogota via a different route.

This slide show illustrates the differing scenery and peoples of Colombia.

With the drugs cartels eliminated and the FARC rebellion at an end, Colombia looks forward to a more prosperous future.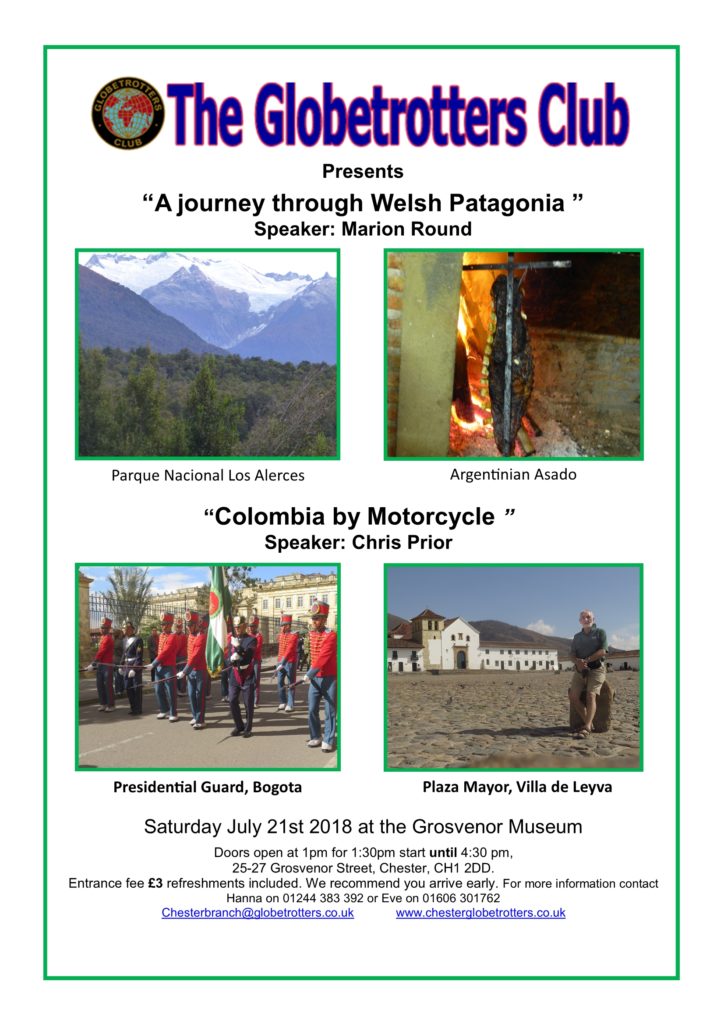 Doors open 1pm for 1:30pm Start till 4:30pm Entrance Fee £3.00 includes refreshments and two talks Grosvenor Museum 25-27 Grosvenor Street, CH1 2DD Enquiries to
Eve 01606-301762
Hanna 01244-383392